Price and quality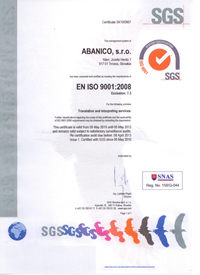 Translations
Our pricing for regular translation is based on a rate per word of source text. For each document received, we conduct an analysis of word count and repetitions (discounts for repeated words can dramatically reduce the overall cost for a given order) which allows us to provide a firm pricing calculation and delivery term for the translation job in advance. Specialised translation software allows us to provide budget calculations even for a large number of documents in a short time. For long-term engagements we offer various forms of discounting as well as convenient payment terms.
Pricing for certified translation is calculated differently than for regular translation and is based on the total number of standard pages in the final translation (a standard page is defined as 1,800 symbols, including spaces).
Interpreting
We will prepare a quotation for you based on your requirements, including the language combination, type of interpreting, length of time and place where the work is to be conducted. We offer discounts for long-term interpreting engagements of several subsequent weeks or months.
Quality
Quality assurance in translation is a continuous process: from the selection of the appropriate translator - an expert in the required field - through the use of computerised tools, review as the translation passes through the individual phases of the translation process up to final correction and re-reading. We take care of all of this using an internally-developed programme for project management and translator evaluation compliant with the ISO 9001 standard. In accordance with ISO 9001, our interpreters are rigorously matched to our clients' requirements. As follow-up, we regularly evaluate them based on references and client feedback.